Description
Pestrol Bird Spikes:
Can be used to protect buildings against pigeons, indian mynas, seagulls, etc in a wide variety of situations, from day time perching to night roosting sites and from narrow pipes to wide of building ledges.
Have the longest life expectancy and the use if high tensile strength stainless steel in particular means birds cannot easily push them out of the way or bend them out of shape. UV-protection of polycarbonate bases further offers a valuable safeguard against cracking or breaking through prolonged exposure to sunlight.
 Are designed to have a minimum 7 year life span in service.
 Are far less visible than plastic ones because they do not reflect sunlight and attract far less dirt, continuing to remain tidy and unobtrusive over an extended period.
Have low profile bases that reduce visibility from the ground, with translucent plastic blending well into most building surfaces.
What Are Bird Spikes?
Bird Spikes, also known as an anti-roosting spike or roost modification, is a device consisting of long, needle-like rods used for bird control. They can be attached to building ledges, street lighting, and commercial signage to prevent wild or feral birds from perching or roosting. Birds can produce large quantities of unsightly and unhygienic droppings, and some birds have very loud calls that can be inconvenient for nearby residents, especially at night. As a result, Bird Spikes are used to deter these birds without causing them harm or killing them.
Described as "the most effective (type of) stand-alone bird deterrent", Anti Bird Spikes can be placed along ledges, walls, on top of commercial signage, closed circuit television cameras and in rain gutters, in order to prevent birds from perching on the surfaces. Anti Bird Spikes are most common in city centres and coastal areas, where feral birds are more common and more likely to come into conflict with humans.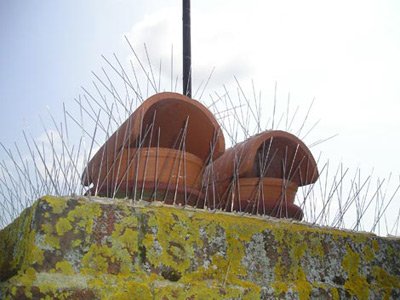 Key Features of Pestrol Bird Spikes
Prevent pigeons from perching on your property.
Great for most applications.
Long-lasting polycarbonate provides years of maintenance-free protection.
Easy to Install – they attach quickly with adhesive, nails, screws, cable ties, etc.
Are transparent spikes – polycarbonate is transparent which is practically invisible.
Flexible –  mount easily on flat, curved or irregular surfaces.
Environmentally Friendly and non-lethal. They do not harm or injure birds.
Economical – Sturdy plastic base does the same job as stainless steel at a fraction of the cost.