Pestrol Solar Insect Crop Protector
Get rid of Guava Moths FAST!
Finally a pest control product for agricultural and home application.
Less pests equals better quality produce.
A great way to catch the Guava Moth and stop them destroying your citrus and other fruit trees.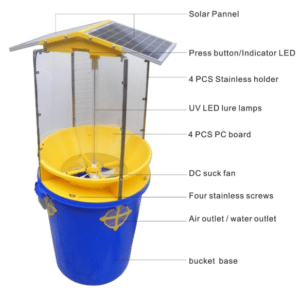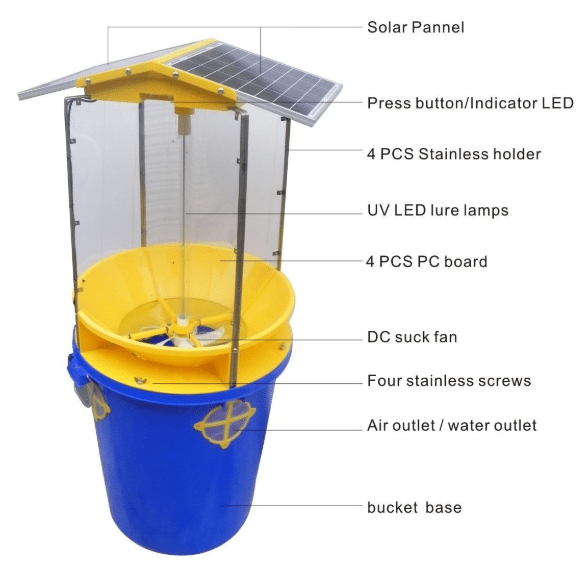 How it works
The outdoor solar insect killer will produce electricity with the highly effective solar panels and charge the Li-ion battery. It will automatically work from Dusk till Dawn. The insect killer will illuminate at night time attracting insects and moths to fly into the light and crash into the transparent board. The insects and moths will drop into the compartment below which is filled with water and die.  Does a great job on catching Guava Moths and protecting fruit.
Solar Killer System Trap Process
Strong LED lures insect into Solar killer system.
Insect crashes into the transparent board and then drop into the water. Smaller insects will also be sucked into the water by the fan.
Insects pass through the funnel and drops into the water where they drown.
When the water level gets too high, the water will leave the bucket through the overflow holes.
Will cover up to 3 or more acres.
How the operation indicator works
Power Off: Press the RED button for 3 seconds to turn the power off. Red indicator and Green indicator is power off.
Power ON: Press RED bottom. Red indicator and Green indicator flash. Then the Green indicator stays on or keeps flashing. When charging, the green indicator stays on; When not charging, The indicator flashes.
Test: Press the green button, the LED light and Fan work at the same time. This checks to see that it is working. It will take 30 seconds before working.
Charging. When the solar panel charging the battery, the Green will flash.
Working. When the lamps or Motor working red indicator will remain on.
Fault. When the motor or lamps have a fault, the red colour will quickly flash.
Low battery. When the battery is low, the red indicator will flash slowly.
When using a nearby power supply, you can use the DC adapter. It will work at night, the fan and lamp will keep working. (Fan will not stop). If you need the unit to work for 24 hours, please cover the solar panel.
How to install
Step 1: Place the bucket on the ground. Put some soil around the bucket.
Step 2: Fill the bucket with water
Step 3: Cover the holes with the net
Step 4: Put the top part on the bucket
Step 5: Use the screws to fix the top part and bucket together.
Specifications
Solar panel Power: 13 Watt Solar panel
Quantity: 2 pcs Solar panel Total: 26 watt Battery: Li-ion 8800 MAH / 11.1V LED: UV LED 395nm
LED power: 5 Watt Fan: 8 inch
Motor: DC Brushless motor Motor power: 8 Watt
Fan Work time: 10 seconds every 2 minutes DC input voltage: DC12V
Size
Solar panel size: 34cm x 32 cm
length X width X height : 65 cm X 52cm X 125cm
Bottom bucket volume: 160 L
Weight: 11 kgs
Water volume: 90L